The Dream Catcher

Our Boat the "Dream catcher" was custom built and designed by "Newton dive boats" for the waters of the Caribbean. The hulls gives great stability in all conditions.On our St Thomas diving trips we believe in keeping the numbers down to a max of 6. We are committed to the level of service we provide in and out of the water. Taking a max of 6 divers gives our divers a better dive. Underwater, our divers have the freedom to enjoy their dives in small, intimate groups. Our DIVE boat offers full protection from the sun while still allowing tanning from the front of the boat.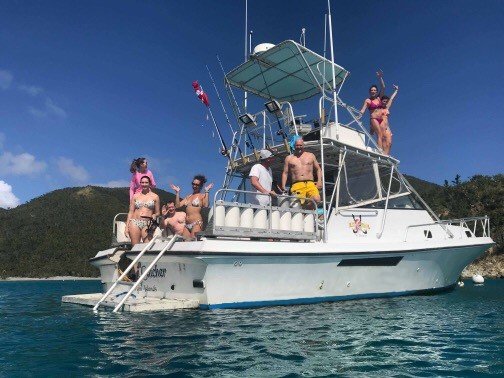 We are divers and we know how important the boat is to your scuba trip! To be honest its where we spend our days so we made sure it was comfortable and had plenty of space. We have made every effort to make our boat perfect for divers with all the extras on board… These stable modified vee platforms will whisk you to even the most remote dive spots in just minutes. The Dream Catcher carries 18 aluminum tanks as well as all the dive gear in her stern, she also has dry storage area to keep towels and personal belongings , state-of-the-art electronics, marine bathroom, freshwater shower and all safety equipment including emergency oxygen kit and life raft .
Getting off and on the boat is easy because we do all the lifting of your gear.
Boat Specs
length: 38ft
Beam: 12 ft
Discover the unexpected, Dive St Thomas!