PADI Elearning Scuba Certification is now Online
With all the newest and greatest technology that arrives to use consumers daily, it was a No brainer that PADI was going to add connivance and accessibility with ALL our scuba classes now available online so you can learn at your pace wherever and whenever you want

Click Here to Purchase your Elearning today
With PADI eLearning, learning to scuba dive has never been more convenient! Whether you're on the go, or just want to take it slow, now you can complete the academic portions of the PADI Open Water Dive course online with PADI eLearning. Anywhere, Anytime. Start your adventure today with the PADI Open Water Diver course online and PADI eLearning! Choose PADI eLearning!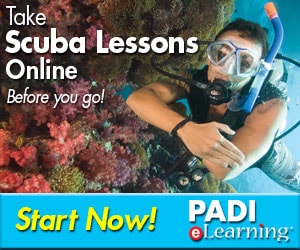 The PADI Open Water Diver course is, by far, the world's most popular scuba certification course. Millions of people have started diving as certified PADI Open Water Divers. Learning to scuba dive requires both knowledge development (facts, principles, concepts) and motor procedures (skills, techniques, methods). The PADI Open Water Diver Course online via the PADI eLearning website provides the knowledge development portion you need. You develop the remaining skills by actually diving with a PADI Instructor at your local PADI Dive Center or Resort.
Cost
The cost is US$185 which is non-refundable. The fee covers your knowledge development training, tests and gives you unlimited access (over 12 months) to an electronic version of the PADI Open Water Diver Manual (course textbook). The PADI Dive Center that you choose during enrollment will be us JJ Divers.   the 'in-water training' check out dives will charge an additional course fee and for your PADI certification. Some centers may require you to buy additional equipment like mask and fins (JJ Divers provides this free of charge). You will be required to purchase a Recreational Dive Planner (Table or eRDP version).
Course Prerequisites
Minimum age: 10 years. An E Learner under the age of 13 requires parent or guardian permission to register online at the PADI eLearning site.
Able to swim
Registration
Below is the PADI eLearning link. Click on the link and you will automatically be taken to the correct page on the PADI website.