The Caribbean Lobster and lion fish hunt
 Here on St. Thomas we are excited to offer the most unique and customizable lobstering and spearfishing tour in all of the Virgin islands. From beginners to expert, we want to ensure you squeeze every drop of fun out of your experience with us! With our extremely knowledgeable, outgoing and fun local crew we know your day is bound to be extraordinary!
If you are staying on the Island your are encoraged to take your catch home for a fresh dinner or better yet Add the lobster BBQ to your private chater and we will grill our bounty right on the boat!

What to expect on the Lobster / Lionfish Hunt:
In the pristine waters surrounding St Thomas, there are lots of delicious Caribbean spiny lobster hiding away under reef ledges and rocks. In order to catch them, you have to know where to look. From our years of experience, we know all of the best spots and look forward to sharing our secrets with you. When you go out with one of our experienced guides, you will have the best chances of catching these guys.
As for lionfish, these fish are invasive and can be found throughout warm-water ecosystems across the globe. They are highly invasive and quite delicious! We bring the equipment necessary to properly remove these fish while on our lobster dive. Not only will you be fully immersed in the excitement of catching and witnessing this rush, but you will also get to reap the benefits of eating them the Caribbean way! Photos and videos can be taken throughout your trip (both underwater and above) so you have something to share with friends and family as well! We follow all USVI regulations to ensure a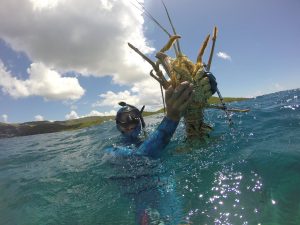 healthy lobster habitat for years to come.
Equipment Provided for Freedivers / Snorkeling = 85$

High quality mask and snorkel
Free diving fins (with neoprene socks) and or regular sized adjustable fins
Lobster Snare
Gloves
Pole Spear and/or Speargun
Equipment Provided for Scuba Divers = 150$

Regulator
BC's
Full tank of air
Fins
Mask
Lobster Snare
lobster bag
lobster fishingh licence
no fish spearing will take place with this tour as to maintain our high safety standards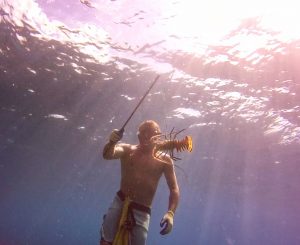 Customize Your Tour:
You are a Beginner and Would Like to Watch/Experience the Process While Snorkeling:
We will go through everything from how to wear your mask comfortably to how to assist the guide in the lobster capture. Fins, a mask and depending on how much you would feel comfortable assisting the guide there may be more gear given to you.
You are a Beginner and Want to Have a Better Chance to Snare the Lobster Yourself:
We recommend you sign up for the discover scuba lesson , so we can get you as close to the lobstering experience as we can. This will allow you to get face-to-face with the lobster and we can then go into the steps on how to snare one for yourself!
You Have Experience and Can Freedive (35-40ft):
We will take you to our spots in the same way we do with no tank usage. Pure free-diving down to the ledges. We will give you a briefing on how to use the custom made snares we will be using as well. To begin, we go through a minimal screening process that will ensure we do not put you into any dangerous situations. We do this for your own safety and want to make sure the experience we are giving you is truly a memorable one.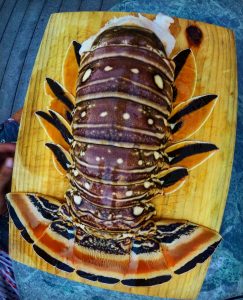 Click the button to reserve your day on and under the water Today !

Discover the unexpected, Private Charter boat St Thomas!