Discover Scuba diving in ST Thomas

Our PADI Discover Scuba Diving course (also known as Beginner scuba ) is a 3 part experience designed for people who are not certified or have never tried St Thomas scuba diving before but would like to see what it's all about. The St Thomas scuba diving course is safe, easy and fun! It is not a certification course although you can go on to do repeat shallow dives under the direct supervision of your dive instructor if you catch the dive "bug". Your Discover Scuba dive also counts towards a dive on the Open Water Diver certification. All our USVI diving courses are one on one so we take our time and work at the speed of each individual diver. It is very relaxed as there are no big groups.
The Discover Scuba Diving course starts with some basic knowledge about USVI Islands scuba diving, followed by our first breaths underwater and skill practice in warm, shallow Caribbean ocean. Once comfortable, we take you on a stunning shallow wall dive where we will swim with 1000's of tropical fish, coral and sponge life, turtles, rays. and so much more! We do this from our shore location where the conditions are like being in a swimming pool.
The cost of the course is $140 USD and includes: all equipment needed during the course, one on one instruction a guided dive of a beautiful shallow reef. Repeat Discover scuba dives ( begginers scuba diving) are only$50 each.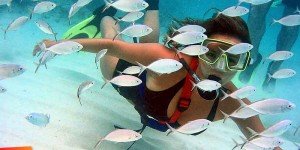 Discover Scuba can also be done from the boat for those of you that would like to be out on the water.
begginers scuba diving