A Scuba Diver's Guide To Diving Playa Del Carmen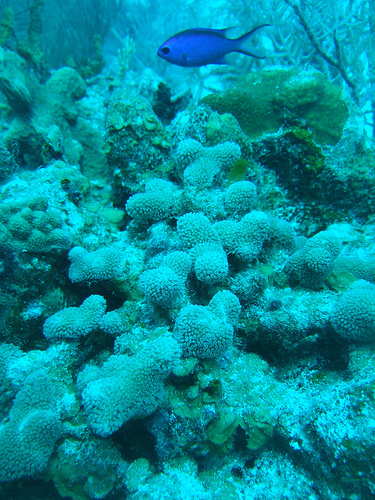 Playa del Carmen was originally a small fishing town. Tourism came to Playa del Carmen with the passenger ferry service the the island of Cozumel, a world famous scuba diving destination. Perhaps just as impressive as Cozumel, Playa del Carmen's coast offers good scuba diving opportunities, as well as the cenote and cave diving for the more adventurous.
Scuba diving – In 1959, Jacques Cousteau discovered the extent and beauty of Palancar, the coral reefs at the south of Cozumel and publicized it as one of the best places to go scuba diving in the world. Scuba diving is still Cozumel's primary draw, mainly due to the healthy coral reef, and is one of the top 5 destinations in the world for this sport. These coral reefs are protected from the open ocean by the island's natural geography. In 1996, the government of Mexico also established the Cozumel Reefs National Marine Park, forbidding anyone from touching or removing any marine life within the park boundaries.
Reef diving spots in Playa del Carmen are so close to the shore, that will not have to spend a lot of hours on board, you will have plenty of time to laid back and relax in this paradise. Read about diving sites in this destination. Dive Shop Mexico morning dives are completed by lunchtime so the rest of the day can be spent as you want !. During the winter season we are blessed with the arrival of Bull Sharks , incredible criatures "Lords of the sea" , don´t miss your Bull Shark dive in Playa del Carmen , definitely a lifetime moment.
Map of Playa Del Carmen This is a detailed map of Playa del Carmen. This may take a minute to download depending on your connection. This version looks rough when on screen but it is great when printed. This has the locations of most of the hotels and condos that we can offer you. To see the above map you will need Adobe Acrobat, if your computer does not have it you can download it from here for free If you click on the map to your right, it will give you a larger image but it is not easy to see all the street numbers but can give you an idea of the town. It is best to print the the above "Map of Playa del Carmen" link.
Are you a lionfish hunting friendly dive center or private divemaster that offers a lionfish-specific education program and will take clients to hunt non-native invasive lionfish? Do you know of a scuba diving center that should be on this list?
Tags: scuba
---